2/4

1.5/4

3/4

1.5/4

3/4

3/4

1.5/4

3/4

4/4

2/4

1/4

3/4

1.5/4

3/4

3/4

2.5/4

0.5/4

2.5/4

3/4

1.5/4

3.5/4

3/4

3/4

3/4

4/4

Prev 25 | Next 25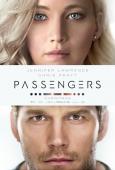 Passengers (2016)
Passengers - Movie Review
2.5/4 stars
"Passengers" has an interesting story, solid cast, and raises it's questions, but was poorly exacted on screen. A story like this it could've been anything. A horror, mystery, romance or just a movie with Pratt by himself. Well technically all four are combined together. A premise this good, it tries to be everything at once, because it doesn't want to miss a opportunity of being something else. When you find out the actual story that the trailers once again lies about, it's pretty creepy and makes Pratt's character selfish.

But with that said, I actually enjoyed the movie and didn't hate it like everyone else. Which is surprising.

I liked the first 30 minutes of film that really got the feeling of fear and anxiety spot on. Even Chris Pratt was pretty damn in the first act, when he realizes he's the only person to wake up due to a malfunction with his pod. I actually brought into Pratt performance, as it did convince me he's scared for his life. Jennifer Lawrence is good in this, but sometimes overreacts in a few scenes that wasn't needed. Pratt and Lawrence had chemistry, but despite the lackluster script that doesn't fix or get around Pratt's character actions that are unforgiving. Or the third act.

The movie is filled with flaws, but at least I found some enjoyment with it (somehow). I mean, it wasn't really bored with it, so there's that.