2/4

3/4

3.5/4

1/4

3/4

2.5/4

1.5/4

3/4

3/4

1.5/4

3/4

3/4

2.5/4

2.5/4

3/4

3/4

3/4

2.5/4

1.5/4

3.5/4

1/4

3/4

2.5/4

1.5/4

2/4

Next 25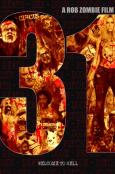 31
31 - Movie Review
1.5/4 stars
"31" is your typical Rob Zombie film that if you've seen one film, then you seen it all.

- Over the top gore
- The writing is trash
- The editing is awful
- Sheri Moon Zombie is a terrible actress
- It's predicable
- Lawrence Hilton-Jacobs accent in the movie was pretty embarrassing

So yeah, I'm not the biggest fan of Rob Zombie. The only movie I like from Rob is "The Devil Rejects" and that's it. There's something about Robs work that doesn't click with me, but hey, that's just me.

But what made this movie watchable is Richard Brake as Doom head. He was pretty damn amazing in this and at times I saw a little bit of the Joker in him. Well, he should have been the Joker and not Leto, because he's madness feels natural and not forced. He's violent and he loves every second of it. Even with he's opening monologue, how it was shot and the B&W look, it was everything that a movie can do to get you as an audience member engaged. It's too bad that he's not in the movie for that long as we are stuck with characters that nobody cares for.

I guess less is more.