2/4

3/4

3.5/4

1/4

3/4

2.5/4

1.5/4

3/4

3/4

1.5/4

3/4

3/4

2.5/4

2.5/4

3/4

3/4

3/4

2.5/4

1.5/4

3.5/4

1/4

3/4

2.5/4

1.5/4

2/4

Next 25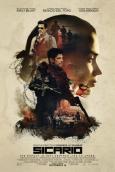 Sicario
Unsettling, intense and brutal
3.5/4 stars
Alejandro: "You will not survive here, you are not a wolf. This is the land of wolves".

The story in Sicario is about an idealistic FBI agent is paired up with a consultant with a checkered past, she will have to learn the hard way that combating the new war on drugs sometimes means getting your hands dirty.

Sicario was my most anticipated movie of 2015, just because of the director, the cast and the magnificent cinematographer Roger Deakins was involved in making this movie. Denis Villeneuve has been non-stop impressing me recently with movies like: Enemy and Prisoners, so I was really looking forward to seeing Sicario and boy let me tell you that Denis Villeneuve did it again, because Sicario is one of the most intense and shocking film I've seen this year. Denis Villeneuve made another fantastic movie that's unsettling and brutal. The directing, cinematography and the performances from Emily Blunt and Benicio Del Toro were fantastic.