1/4

1/4

2.5/4

1.5/4

2.5/4

3.5/4

3/4

2/4

3/4

2/4

3/4

3.5/4

1/4

3/4

2.5/4

1.5/4

3/4

3/4

1.5/4

3/4

3/4

2.5/4

2.5/4

3/4

3/4

Next 25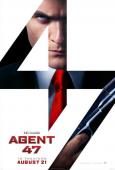 Hitman: Agent 47
Another reboot that failed...again.
1.5/4 stars
Skip Woods should be fired from writing screenplays and if you don't know who he is, well lets just say he wrote such films as: X-men: Origins Wolverine, The A-Team (2010), Sabotage, Hitman (2007), and A Good Day to Die Hard.

Hitman: Agent 47 is another attempt to adapted the Hitman game franchise into a movie and the pay-off we got was a piece of shit and I'm not surprised at all. The posters and trailers didn't really convince me that it's going to be anything good and I was right.

Rupert Friend who plays Agent 47 dose a decent job in the movie, even when he's character wasn't that developed enough or even interesting.

The rest of the actors didn't do such a good job, even Zachary Quinto had nothing to do in this movie and I know he's better than this. The action scenes wasn't as terrible as I thought it was going to be but it's nothing really special. The movie ends begging for a squeal and maybe start a franchise, but that's not going to happen since this movie bombed hard at the box office.

Overall Hitman: Agent 47 isn't a good movie at all, as I believe that this movie will be forgotten in the next two months and so would this review ;) .