1/4

1/4

2.5/4

1.5/4

2.5/4

3.5/4

3/4

2/4

3/4

2/4

3/4

3.5/4

1/4

3/4

2.5/4

1.5/4

3/4

3/4

1.5/4

3/4

3/4

2.5/4

2.5/4

3/4

3/4

Next 25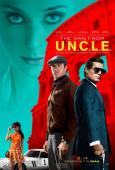 The Man from U.N.C.L.E.
Decent
3/4 stars
So this movie is basically about Superman and The Longer Ranger teaming up to save the world from evil doers, but in 60's style... should be interesting at least.

The Man From U.N.C.L.E is set around the early 60's, as CIA operation and a KGB agent join forces to take down a mysterious organization seeking to profit on nuclear proliferation.

So I just seen The Man From U.N.C.L.E and it was okay. Now Guy Ritchie may be a mix bag for most people and he kind of is sometimes, but I got to admit that Ritchie really injects a feel of energy and style into his movies that really makes them quite enjoyable to watch. And once again Guy Ritchie doesn't disappoint when it comes to action scenes and it's sense of style, but the one thing that Guy Ritchie doesn't do well on is it's story and characters which is the movies biggest flaw.

Henry Cavill, Alicia Vikander and Armie Hammer all do a solid and decent performance in this movie. I also like how the movie looked as it fitted the 60's perfectly. Some of the action scenes are enjoyable to watch and that's really it for the good.

The characters and the story isn't anything special. The movies pasting can be off at times and I got to admit that I was a bit bored mid way through the film.

Overall The Man From U.N.C.L.E is decent enough, but not as great as I wanted it to be.