0.5/4

1.5/4

1.5/4

3/4

3.5/4

3/4

1/4

1.5/4

3/4

1/4

1/4

2.5/4

1.5/4

2.5/4

3.5/4

3/4

2/4

3/4

2/4

3/4

3.5/4

1/4

3/4

2.5/4

1.5/4

Next 25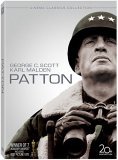 Patton
Patton is the best biography I've seen in years
3.5/4 stars
George S. Patton Jr.: "The above quotes are all erroneous, and grievously so, except for the very first!"

The story is about a hard nosed controversial general is shown in this WW 2 movie about how to win battles and look good doing it.

Movies back in the 70's was the dark age of films. Graphic, brutal, dark and took many chance's with it's shocking scenes that left many people cold and speechless. Until one late night when this movie came on TV and I only heard a couple of things about it but nothing much. So I was there acting all cocking thinking "Oh classic movie eh? well blow my mind classic movie", then I started to watch and I really got into it, to the point where I understand why people raving this has a classic and this movie was a lot different then the other 70's movies at the time. It's a World War film with some amazingly well shot scenes of the battlefield and the horrifying impact that everybody had to go through.

George C. Scott was just terrific in this movie playing George S. Patton. I didn't see George C. Scott in this role, I just saw the real guy in front of me and he completely disappeared in this role and became the real thing, and that's just top notch to me.

The cinematography in this movie looks like it took a long time to get the perfect shot and needed the right timing, and for that I give the cinematography team respect for actually trying to get the right shot. The directing and the writing has well was pretty stellar and freaking well done.

For problems I only have one and that is: The movies paste can drag a little and... really that's it.

Overall Patton is a brilliant war film with excellent acting and outstanding cinematography.