2/4

3/4

3.5/4

1/4

3/4

2.5/4

1.5/4

3/4

3/4

1.5/4

3/4

3/4

2.5/4

2.5/4

3/4

3/4

3/4

2.5/4

1.5/4

3.5/4

1/4

3/4

2.5/4

1.5/4

2/4

Next 25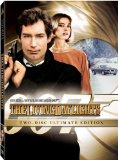 The Living Daylights
See ya Moore
3/4 stars
See ya Moore and hello new Bond.

The story is about Bond himself assigned to aid in the defection of KGB agent Jeroen Krabbe. 007 must prevent an unknown sniper from killing Krabbe before he can reach the West. The mysterious assailant turns out to be the luscious Maryam d'Abo, who, as it turns out, is not all that she seems. The plot wends its way through a scheme to trade several million dollars' worth of diamonds for weapons, which will be shipped off to mercenaries worldwide.

So after that terrible mess known as A view to a kill which I didn't like at all, actually I thought that movie sucked, if you want to know what I truly thought of that film then check out my review of it. So Roger Moore is out and now we got a new Bond and a better one if I must say.

Timothy Dalton in my opinion has to be the most charming, bad-ass and the by far the best Bond since Connery. He wasn't mean or a A-hole like Moore was, he was a Simpy man saving the day.

The action scenes in this movie was so impressing and so well shot that I can't believe they got this in the year 1987. I couldn't guess what was visual effect's or green screen in some scenes, that's how good they where.

With problems I only got some like: the villain of the film was just the basic evil guy doing evil stuff to make Bond blink twice, yeah the villain wasn't anything great. The Bond chick in the film that I can't even remember her name but she was so useless and to be honest got in the way in a lot of things, now normally who will get some cool Bond girl in the past films and some in the new ones, but this one got on my nervous a lot of times.

Overall The Living Daylights is a big improvement from A view to a kill if I must say, but it may not be the best Bond film I've seen, but I will not lie it was a lot of fun to watch.