1/4

0.5/4

1.5/4

1.5/4

3/4

3.5/4

3/4

1/4

1.5/4

3/4

1/4

1/4

2.5/4

1.5/4

2.5/4

3.5/4

3/4

2/4

3/4

2/4

3/4

3.5/4

1/4

3/4

2.5/4

Next 25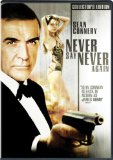 Never Say Never Again
Connery will always be Bond to me
2.5/4 stars
Seeing Sean Connery as James Bond again is like seeing a best friend that you haven't seen in years and you're glad to see him again, but when you hang around with him again for a day and after that day is over you think to yourself, "That was okay, but it's not the same as the good all days".

The story to Never Say Never Again is that James Bond himself emerges from cozy retirement to cross swords with Largo, a megalomaniacal business exec who steals several nuclear missiles, intending to bring the World Powers to their knees.

Never Say Never Again is a Bond film that has this depressing and dull to it and this is me being honest, and the movie itself is nothing really special. This isn't a bad bad movie, no it's just the same formula as the other Bond flick.

Sean Connery is back in the role as Bond and it's like he never left, because he was top notch as Bond once again. He's still got that charming and cool look to him that made him a great Bond from the start.

The Villains are forgettable and not that interesting to watch, the effect's look okay and the movie is shot really well. But the movie has lacks on character's and the story itself isn't all that interesting, and this is comeback role for the great Connery and they didn't really do anything amazing or anything spectacular with this idea.

Overall this isn't the worst Bond film I've seen so far. The movie has it's a lot of good things in it, but it does have it's bad things as well.