1/4

1/4

2.5/4

1.5/4

2.5/4

3.5/4

3/4

2/4

3/4

2/4

3/4

3.5/4

1/4

3/4

2.5/4

1.5/4

3/4

3/4

1.5/4

3/4

3/4

2.5/4

2.5/4

3/4

3/4

Next 25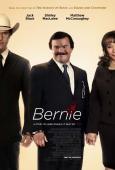 Bernie (2012)
Richard Linklater always brings out the best.
3.5/4 stars
Churchgoer: "Ms. Nugent is in a deep freezer headed for Dallas!"

The story is about Bernie Tiede was one of the town's most beloved residents. He taught Sunday school, sang in the church choir and was always willing to lend a helping hand. Everyone loved and appreciated Bernie, so it came as no surprise when he befriended Marjorie Nugent, an affluent widow who was as well known for her sour attitude as her fortune. Bernie frequently traveled with Marjorie and even managed her banking affairs. Marjorie quickly became fully dependent on Bernie and his generosity and Bernie struggled to meet her increasing demands.

2011 was the year for Jack Black, Matthew McConaughey and the director Richard Linklater, because this movie was beautifully directed and acted.

Bernie is a entertaining dark comedy with a sweet side to it. The main character of this movie (Bernie) well he has be the most interesting and most likable person of the face of earth, even the fact that he killed a mean and despicable old women, I still cared for him and I got to give respect to the writers and the director to care about a killer.

Matthew McConaughey had the biggest come back in 2011 with The Lincoln Lawyer, Killer Joe and now this movie which he was brilliant in. McConaughey always has that charm and know it all in every role in see him in today, and that what makes him a brilliant actor.

Jack Black gives a heartbreaking and spellbinding performance as the sweet killer. It's good to see Jack Black doing roles were he can poof that he is a great actor and in this movie he shines and gives it his all.

The movie does have it's slow parts and some of the short interviews of the town people can be a little bit uninteresting. But overall Bernie is a terrific and fantastic movie with brilliant writing and directing.