3/4

3.5/4

1/4

3/4

2.5/4

1.5/4

3/4

3/4

1.5/4

3/4

3/4

2.5/4

2.5/4

3/4

3/4

3/4

2.5/4

1.5/4

3.5/4

1/4

3/4

2.5/4

1.5/4

2/4

2/4

Next 25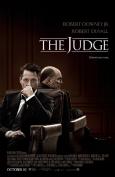 Judge, The (2014)
Court and law with the Robert's.
3/4 stars
Two Roberts in one movie about court and law. Should be interesting.

The movie is about a hotshot lawyer returns to his how town after his father, the town judge, is accused of murder. While seeking the truth behind the crime, he also tries to reconnect with his estranged family.

Robert Downey Jr. and Robert Duvall both did a excellent performance in this movie. I like they back and forward with each other as they are both fantastic actors, and in this movie there's no different that their talent always shines up on the big screen with glory. The writing in the movie was also good and as I said before about the father and son back and forward dialogue was written really well, and I got to give Nick Schenk and Bill Dubuque credit for doing that.

Vera Farmiga character in the film for me could have been cut out of the movie, she didn't do a terrible job but her character to me slowed the movie down for me and every time she came on screen the movie starts to drag. The movie may not be for everybody. Most people are going to think this movie is dull or boring, but if you are the kind of person who likes to think deep about movies with character's having a drama's or dealing with problems about family or friends then the Judge is your movie.

The Judge has two fantastic and brilliant performance be the main Robert's. But the movie may have problems in some scenes of character's dragging the movie down for me, but at the end of the day a movie isn't perfect.