1.5/4

3/4

3.5/4

3/4

1/4

1.5/4

3/4

1/4

1/4

2.5/4

1.5/4

2.5/4

3.5/4

3/4

2/4

3/4

2/4

3/4

3.5/4

1/4

3/4

2.5/4

1.5/4

3/4

3/4

Next 25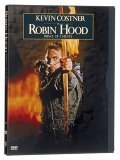 Robin Hood: Prince of Thieves
Robin Hood so has a nice american accent.
2/4 stars
Wow Robin Hood so has a nice american accent, yep he sure sounds like he was born in Britain alright.

The story is about are main character Robin Hood returns home with a Moorish companion to find his father murdered, his land taken and the land ruled by the corrupt Sheriff of Nottingham. Moving to Sherwood Forest, he starts a band of thieves to undermine the sheriff and bring an end to his corruption.

Robin Hood: Prince of Thieves is a depressing, sloppy movie with less character development from are character's and more of the action. Kevin Costener through out this movie used a american accent and not a British accent and to me that is just lazy. What's next? a Lincoln film starring a welsh actor how doesn't try to put a accent on and just users a welsh accent through the the whole film.

What worked: Morgan Freeman was good in the movie and Alan Rickman played a really fun bad guy, that through out the film I was rooting for the whole time. The sets were was done and the score was pretty epic if I have to say.

What didn't work: The movie has that depressing and uneasy feeling and look to it which ruined the whole experience of adventure for me as a viewing audition who wanted to have a good time and have a spectacular time at the movies.

But overall this movie may have a good villain and good looking sets, but the movie lacks on fun and caring for the main character himself Robin Hood.