1/4

2.5/4

1.5/4

2.5/4

3.5/4

3/4

2/4

3/4

2/4

3/4

3.5/4

1/4

3/4

2.5/4

1.5/4

3/4

3/4

1.5/4

3/4

3/4

2.5/4

2.5/4

3/4

3/4

3/4

Next 25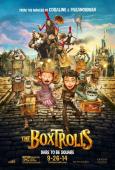 The Boxtrolls
The Boxtrolls is a solid family movie.
3/4 stars
You know in those Claymation movies where the characters have skinny arms and legs, but they have big belly's, um... something is not right about that.

The story is about a young orphan, raised by subterranean trash collectors, must find the hero inside when an evil exterminator threatens his family.

The beginning of this movie started a bit slow and I wasn't feeling it, but as the film went a long it became better. The voice acting in the film was well done. The villain in the film to me had a really stupid plan that didn't make scenes at all, and he was a cliche messed up villain with nothing really new to him, but Ben Kingsley did a good job voicing him. The jokes worked at times and sometimes they don't. But overall the Boxtrolls is a solid family movie with so dark scenes and such messed parts that might scary kids a little.