2/4

3/4

3.5/4

1/4

3/4

2.5/4

1.5/4

3/4

3/4

1.5/4

3/4

3/4

2.5/4

2.5/4

3/4

3/4

3/4

2.5/4

1.5/4

3.5/4

1/4

3/4

2.5/4

1.5/4

2/4

Next 25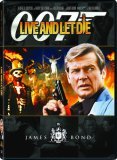 Live and Let Die
A decent Bond film.
3/4 stars
Kananga/Mr. Big: "What shall we drink to, Mr. Bond?! / James Bond: "Well, how about an earthquake".

The story is about James Bond travels to New York to unravel the mystery. It all leads to Mr. Big, a drug dealer with plans for heroin and his beautiful assistant Solitaire.

Okay I got to get this off my chest. Roger Moore is not the greatest Bond. but let's not forget that Roger Moore is not a terrible actor, actually he's pretty damn good as a actor and in this movie he did a good job, but I'm sorry but his no Bond. The theme song to this movie (Live and let die) just like the other bond intros, they are always getting stuck in my head and this one got stuck to. The villains in this movie are remediable and such fun villains, and you know I have a big soft sport for villains. The movie went dark at times which I liked in the film, but they tried to add humor into the mix and I didn't work for me. Overall Live and Let die is a strong Bond film with weird voodoo added to it which didn't hurt the Bond series.