2.5/4

3.5/4

3/4

2/4

3/4

2/4

3/4

3.5/4

1/4

3/4

2.5/4

1.5/4

3/4

3/4

1.5/4

3/4

3/4

2.5/4

2.5/4

3/4

3/4

3/4

2.5/4

1.5/4

3.5/4

Next 25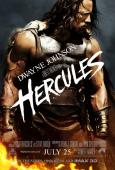 Hercules (2014)
"I am Hercules".
3/4 stars
"I AM HERCULES!!!!".

The story is about Hercules, having allied himself with six other mercenaries who live for nothing but battle, has lived a tortured existence with nothing but blood and death to show for it. Now the king of Thrace needs the merciless group to raise an army to take down a tyrannical warlord - and they will find just how far they must go to train these men to be just as ruthless as they are.

Love or hate Brett Ratner the director of this film, you got to admit his movies looks sharp and well shot and this one is no different. The CGI looks okay and I liked Dwayne Johnson in this movie, his not the best actor on the planet but this roles was right for him because you need a big dude with to much baby oil on. Legend of Hercules you can go suck it.