1/4

0.5/4

1.5/4

1.5/4

3/4

3.5/4

3/4

1/4

1.5/4

3/4

1/4

1/4

2.5/4

1.5/4

2.5/4

3.5/4

3/4

2/4

3/4

2/4

3/4

3.5/4

1/4

3/4

2.5/4

Next 25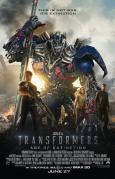 Transformers: Age of Extinction

1/4 stars
Oh my god this movie was 3 hours long!!.

The movie is about the government has decided to cut all ties with Autobots. They may be forgotten - but they are not gone - and a mechanic and his daughter discover one of the most powerful of the Autobots in their possession and it ignites a full-blown showdown between the Decepticons, Autobots and the government.

This movie has terrible looking visual effect's and the characters are forgettable as always. The only good thing in this movie is Optimus prime and Mark Wahlberg, but anything else is crap.