1/4

0.5/4

1.5/4

1.5/4

3/4

3.5/4

3/4

1/4

1.5/4

3/4

1/4

1/4

2.5/4

1.5/4

2.5/4

3.5/4

3/4

2/4

3/4

2/4

3/4

3.5/4

1/4

3/4

2.5/4

Next 25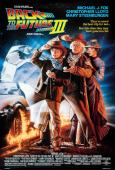 Back to the Future Part III

3/4 stars
Marty McFly: "Hey, Doc! Where you goin' now? Back to the future?".

Doc: "Nope. Already been there".

Marty, Trapped in 1955 digs out the Time Machine from 1885 to rescue Doc Brown back in the Old West from Buford "Mad Dog" Tannen to finally bring them all back to 1985 when the time machine experiences a major problem that can not be dealt with in the late 1800's.

Back to the Future Part III is a satisfying ending to the BTTF franchise. The movie was cool, fun, sweet and intense in some scenes. I like this movie a little more than the second one, but the first one is still the best.