2.5/4

3/4

2.5/4

1.5/4

1.5/4

3/4

2.5/4

3/4

2.5/4

3.5/4

3/4

2.5/4

1/4

3/4

2/4

1/4

1.5/4

3.5/4

2.5/4

1.5/4

3.5/4

4/4

1.5/4

2.5/4

3/4

Next 25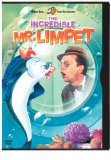 The Incredible Mr. Limpet

1.5/4 stars
There are so many things wrong with this movie. I wouldn't even know where to begin. The cover animation makes it look like it's for kids...but it's not. Nazis and spawning and falling in love with another fish and I don't even know... I've never been more ready for a movie to end.
"Henry, am I the widow of a man or the wife of a fish?"
No. No. No. Make it stop.