4/4

3.5/4

3/4

3.5/4

3.5/4

3.5/4

3.5/4

4/4

4/4

2/4

3.5/4

3/4

3.5/4

2/4

2.5/4

2.5/4

3/4

3.5/4

2.5/4

4/4

3/4

1.5/4

3.5/4

2.5/4

3.5/4

Next 21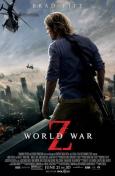 World War Z
World War Z
2.5/4 stars
Small spoilers

The movie has some very high suspense moments still it did not entertain me.
I had very many problems with the movie, the script, the directing.
The performances are solid but not great. Damn, Brad Pitt got old. The story is quite usual: Zombies and panic. We have seen that very often. And of course there is one hero who tries to find a cure. The directing of the movie was strong at some parts but then Marc Forster fell in love with Brad Pitt. He made some really huge close-ups and filmed him a little bit from under, so that he can look bigger and some other things.
The character build-up of this movie is terribly bad. Brad Pitt had a family in the movie, but without one it not have been more emotional. Some characters are soooo underdeveloped, that they did not look human.
One thing that really annoyed me was the heroic representation of Brad Pitt. At one part a plane crash-lands and Brad Pitt has a piece of metal in his stomach. He tries to pull it out. Ain't working. And so he starts to walk through half of Wales to find a hospital and he survives. This was one example there are plenty more scenes like that in the movie.
The soundtrack and the cinematography were great. And the movie had a really great ending.