4/4

3.5/4

3/4

3.5/4

3.5/4

3.5/4

3.5/4

4/4

4/4

2/4

3.5/4

3/4

3.5/4

2/4

2.5/4

2.5/4

3/4

3.5/4

2.5/4

4/4

3/4

1.5/4

3.5/4

2.5/4

3.5/4

Next 21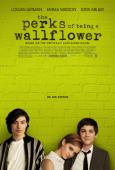 The Perks of Being a Wallflower
The Perks of Being a Wallflower
3.5/4 stars
Charlie(Logan Lerman) is in freshman year where he is not accepted for first, but then two seniors, Sam(Emma Watson) and Patrick(Ezra Miller) help him and introduce him to the real world...

I am not going to an American school, so I can not say something about freshman year or my high-school experience. But still I can find some similarities to the character of Charlie and me. I think nearly everyone who has been through, or still is in teenage can do that. I think it is because the character is written so well, that it's hard to not find some. The other characters are also very well written and developed. See, that is what happens when the author of a book writes a screenplay adapted by the book. Stephen Chbosky! Very well done. After I watched the movie for the first time I read the book and was astonished how similar they are.
Maybe you noticed that Mr. Chbosky also was the director and producer of this film, and he has done his job damn well. It looks so beautiful. Also with help of the brilliant cinematography.
The acting is marvelous Emma Watson acted away from Hermione and became Sam. Logan Lerman: Wow! His acting was near perfection, he will be going ways if he continues like that. Ezra Miller: wonderful, he is made for the role.

I can not praise this movie enough, but I have to say that the movie needs some narration at some parts. Still, when I walked out of the theatre I felt so happy and warm around my heart. And that is what this movie should make.

All in all, this is one of my favorite movies of 2012.