4/4

3.5/4

3/4

3.5/4

3.5/4

3.5/4

3.5/4

4/4

4/4

2/4

3.5/4

3/4

3.5/4

2/4

2.5/4

2.5/4

3/4

3.5/4

2.5/4

4/4

3/4

1.5/4

3.5/4

2.5/4

3.5/4

Next 21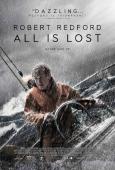 All is Lost
Sail-AWOLNATION
4/4 stars
Robert redford is the only actor, i have seen, who actually knows how to sail.
I really enjoyed J.C. Chandors' debut "Margin Call". It was intense and realistic. But more important it was dialogue-based. This movie lived from its dialogue. "All is Lost" is the excact opposite.

This movie is based on the character-actions and the way they can develop. Some reviewers were arguing about the mising character-backstory, but this movie is not about that what lies behind, it is about, how to survive in the present and thinking about the future. And more important, the fact that the whole movie takes place on sea, means that it doesn't matter where you are from, what your origin is, or who you are. On sea and in trouble, only surviving matters.
If you are looking for a connection to "Margin Call" I can tell you one. Margin Call is about surviving the present. All is Lost is about how to survive the consequences a crisis brings you. You had everything, but now you lost everything but you have to go on.
There is only one character in this movie, nameless, lonely. as I mentioned before, his backstory doesn't matter it is about the moment. However, he is portrayed brilliantly by Robert Redford who gives the best performance of his career (and, yes I know, what I'm talking about) The fact, that one actor has to carry a whole movie alone, is very risky. Robert Redford simply holds the pressure and manages this extraordinary task. Some reviewers where complaining about his line quantity, but (here we go again) this movie is not about this, it is simply about the actions.
To point out another great point, I just have to mention the powerful and beautiful directing of JCC. It is perfect. Nothing more to say.
Another complaining point of other reviewers is the thing, that they thought, that the movie was boring. Maybe it is for them, but through my eyes I see a masterpiece which should be remembered for a long time.
Chandor go on!