2/4

3.5/4

3.5/4

4/4

2.5/4

2/4

2/4

1.5/4

1.5/4

4/4

2/4

2/4

2.5/4

3/4

0.5/4

1/4

3.5/4

3.5/4

4/4

2/4

3/4

3/4

4/4

3/4

4/4

Next 25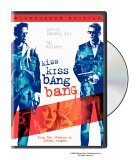 Kiss Kiss, Bang Bang
Comedy like they don't make 'em anymore.
4/4 stars
So in the midst of Robert Downey Jr.'s comeback, one of the funniest writers in the world (Shane Black) and one of the funniest people (RDJ) came together and made what was going to be their comedy milestone.
And then… NOBODY SAW IT.

Kiss Kiss Bang Bang is a criminally (haha) underrated black comedy crime film, displaying just about everything that needed to be to make a great comeback, so the fact that it performed so poorly at the box office is an even bigger mystery than the film's premise to me.

Black has proven he can write excellent characters, and follows in the footsteps of Lethal Weapon here. Lots of tongue-in-cheek humor deriving from dialogue, many non-linear fashioned gags and crimes and a general feeling of a broken fourth wall.
In fact, it's so obnoxious and stupid it's kind of hard not to like it.
The screenplay is absolutely fantastic from beginning to end, and in my opinion Oscar-worthy.
Robert Downey Jr. and Val Kilmer are nothing short of hilarious in their eccentric one-liner popping amateur criminals.
This duo is one of the first to have me laughing out loud to almost every joke. I wish they would work more in the future, possibly a trilogy of dumb crime?

I guess Black knows how to direct, too, because the sets and organization of this whole film is phenomenal. Everything looks and feels like it's spot on and done at the right time.
Hat off to possibly the best cinematic debut I've ever seen.

Kiss Kiss Bang Bang is as exaggerated and overblown as its title, and it works. It just works in some hilarious way, and that is why it is one of my favorite black comedies and one of my favorite movies.