2/4

3.5/4

3.5/4

4/4

2.5/4

2/4

2/4

1.5/4

1.5/4

4/4

2/4

2/4

2.5/4

3/4

0.5/4

1/4

3.5/4

3.5/4

4/4

2/4

3/4

3/4

4/4

3/4

4/4

Next 25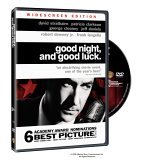 Good Night, and Good Luck
The spark of interest.
3.5/4 stars
Good Night, and Good Luck is what I understand under good biopics. A clear image of the actual person with no sugar-coating or liberties taken in the story.
Everything in this film is interesting, which is very hard to do in a political movie. It's not everyone's pleasure subject.

George Clooney really does belong behind the camera. The directorial style in this film is almost a spitting image of its smokey, fast-talking atmosphere. His use of close-ups and focus is incredible. Admittedly, the black and white isn't the most original transition, but it fits well as an homage to the actual CBS news broadcasts themselves. Clooney was snubbed out of his Oscar for this one, because he outclassed Ang Lee big-time.

David Strathairn's performance in this movie is rare. What I mean by that, is that once in a while a character enters screen and yours eyes are on him, e.g. the Joker and Hannibal Lecter.
He was classy and provocative as the smooth and elegant Mr. Edward Murrow. And it's such a great depiction of the real persona, too.
I can't image how many takes it must have taken Strathairn to get it right. Needless to say, his effort paid off exceptionally.

It's an incredibly intelligent picture depicting the early days of broadcast news, the charisma of such popular, yet controversial news anchors as Ed Murrow and the often usefulness or discomfort of political rhetoric. A masterwork of dialogue and stature, Good Night, and Good Luck is an instant biographical classic, that an everyman can learn from.