2/4

3.5/4

3.5/4

4/4

2.5/4

2/4

2/4

1.5/4

1.5/4

4/4

2/4

2/4

2.5/4

3/4

0.5/4

1/4

3.5/4

3.5/4

4/4

2/4

3/4

3/4

4/4

3/4

4/4

Next 25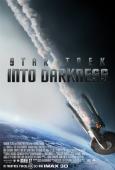 Star Trek Into Darkness
Into Disappointment.
2.5/4 stars
Star Trek (2009) was to me, what a lollypop to a toddler was. It had everything I wanted to see out of a Star Trek film, plus more: anyone could enjoy it for being entertaining, smart sci-fi.

Star Trek: Into Darkness is not the case. It was very heavily focused on many minor aspects of the first one.
Chris Pine and Zachary Quinto are free-flowing once again in their roles. Especially Quinto this time around. A lot of drama was added to the character and all characters in general, and that is both a good feature and a bad one.
You see, this movie passes itself off as an absolute summer movie. And I am totally irritated by the way the film chose to play out. Nothing in this movie is portrayed as promised, Benedict Cumberbatch was good, but forgettable, the story is so generic and easy to get through, that it took me a couple of tries to ignore the flaws and watch the movie.

Obviously a lot is going on between Kirk and Spock, but it is never completely developed. It is loosely interpreted through some very standard dialogue, another feature this movie failed to retain from the first.
What pissed off fans the most, was undoubtedly the scene near the ending. Skip ahead if you haven't seen Into Darkness, yet.

SPOILERS START.

Basically, the scene is Kirk dying and Spock tearfully saying a goodbye.
Then Kirk dies.
Then Spock shouts 'Khan'.
Then IQ's start dropping rapidly.

It's a rip-off from Star Trek: The Wrath of Khan. I haven't even seen it, and still I find this scene miserable. I can completely understand why fans are annoyed, because I wouldn't have done the scene that way either. It's just a mirrored image of the original iconic scene, only made laughable here.

SPOILERS END.

Plus, what followed was just the most rushed, under-developed and frankly un-entertaining climax of the year. Everything in the third act of the movie was convenient. The action was nothing special and the whole ending did nothing for the characters.

In conclusion, I am disappointed.
This movie is what you get when you take Star Trek '09 and take all the fun away. The good direction and special effects are there, but I find nothing in the movie memorable. At all.