2/4

3.5/4

3.5/4

4/4

2.5/4

2/4

2/4

1.5/4

1.5/4

4/4

2/4

2/4

2.5/4

3/4

0.5/4

1/4

3.5/4

3.5/4

4/4

2/4

3/4

3/4

4/4

3/4

4/4

Next 25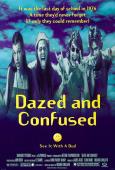 Dazed and Confused
Collection of mischief and 70's high school uproar
4/4 stars
Richard Linklater is a great director, because he understands certain age groups. He almost never delivers a cliché in his movies, sparking something inventive, yet staying true to the genre of the film. And Dazed and Confused, is a true genre film.

I can't exactly call this film relatable, because I'm not a 70's kid, and I wouldn't know all of this hype and customs of those times. But I sure dug the hell out of this movie.
I just couldn't help but appreciate the way Linklater developed these likable young characters. Sure, they're not doing anything meaningful or helping society in any way (most likely the opposite), but the spirit that is constant in this film is the feeling of freedom and separation from all troubles.
The acting is fantastic and authentic, especially everyone in the main cast, including the always hilarious Matthew McConaughey.
I will admit, I did get tired of them just smoking all the time, though.

Linklater's direction (as mentioned before) is great. It underlines the script and emphasizes what these very personal characters embody, often letting scenes of dialogue go on for ages, even if it's completely unrelating dialogue to the rest of the film. He really knew what to do with this incredible premise.

It's one of the best screenplays I've ever seen, and it was so much fun to watch this one crazy night unfold. I don't think I've ever had this many belly-laughs in a coming of age film.
It may not hold up with high school personas and attitudes today, where people actually prefer to study, but it was a pretty vivid incarnation of 70's teenage. Random conversations about nothing topped with parties, hazing and immature fun.