2/4

3.5/4

3.5/4

4/4

2.5/4

2/4

2/4

1.5/4

1.5/4

4/4

2/4

2/4

2.5/4

3/4

0.5/4

1/4

3.5/4

3.5/4

4/4

2/4

3/4

3/4

4/4

3/4

4/4

Next 25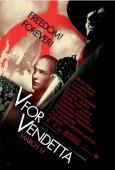 V for Vendetta
M for Magnum Opus
3.5/4 stars
This is why the Wachowskis should write screenplays more often. Man. That was awesome.

KingInTheNorth mentioned in his review that the film was reminiscent of Children of Men. While Children of Men is much more apocalyptic and tragic, the general atmosphere of a dystopian Britain is there, like A Clockwork Orange. A corrupt society.

The editing in the movie is amazing. The whole film feels like a juxtaposition of action, story and past events, although barely anything is shown in flashbacks.
James McTeigue made one of the best debuts possible, by letting his style combine with the excellent tone of the film. It's just a marvel of modern filmmaking, where a little bit of everything came together and it just worked.
The script shares much of the same newfound faith in the characters and imaginative philosophy of the Matrix. The Wachowskis are outstanding screenwriters, who know how to build in a twist and use it to really blow your mind, not just to say: here, a twist, that's for you.

It feels like every little detail in the film was underlined with precision. The story never lets go, makes use of its sub-plots and incorporate the best action in years.
No actor is underused, no dialogue is overdone, no talent goes to waist.

Hugo Weaving continues to astonish me in every role he plays, from Elrond to Agent Smith, and here he is more than baffling, the best role of his career. And we don't even see his face. Now that's an actor.

What started out simple blew my mind. The acting is phenomenal, the direction, editing and visual effects are astonishing, the script is almost perspective-changing and I couldn't ask for more. Remember, remember the 5th of November.

A vibrant, vivid vision of vigorous vendetta!