2/4

3.5/4

3.5/4

4/4

2.5/4

2/4

2/4

1.5/4

1.5/4

4/4

2/4

2/4

2.5/4

3/4

0.5/4

1/4

3.5/4

3.5/4

4/4

2/4

3/4

3/4

4/4

3/4

4/4

Next 25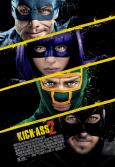 Kick-Ass 2
Definition of summer movie - this movie.
2.5/4 stars
The first Kick-Ass movie was a pretty big success. You could almost say it garnered a cult following, because so many loved it for its exceptional action and humor, the different take on superheroes.
I have mixed feelings about Kick-Ass. Sometimes I loved it, sometimes I had severe problems with it. For example, the action was filmed brilliantly by Matthew Vaughn and Chloe Grace Moretz stole the show as Hit-Girl, other times I cringed at the sight of children being beat up.

So what did I think of Kick-Ass 2? I think it's exactly like the first one, only just a little bit less enjoyable.
It has exactly the same things to love and to hate, it has the immature humor, over-the-top action and wanna-be superhero characters, but has more violence against children and again scenes that made me cringe.
Jeff Wadlow directed this film (known for directing Never Back Down, a film I have not seen), and I think he pulled off the look and feel of the original Kick-Ass quite well. It had the comic book-ish undertones and fast-paced cinematography, not bad.

The actors are splendid once again. Aaron Taylor Johnson is obviously not the age of a high schooler, but he was convincing in the part of hero Dave Lizewski.
But yet again, Chloe Grace Moretz steals the show. She is fantastic in her character and continues to impress me. Ever since she starred in the first Kick-Ass and went on to Scorsese, I was always blown away by her acting credibilities.
I was overjoyed at how Hit-Girl was portrayed here. We get a proper look into the life of a teenage girl, who isn't really a teenage girl. She struggles to adapt to high school and finds herself exacting acts on those who do her wrong.
The way teenage girls were portrayed in general was great, too.

It's a good time. Okay? It has impressive action, more character development and some scenes practically had me laughing in tears.
There are some scenes I feel went too far and could have been stopped, and I still prefer the original to this one, but for a good time at the cinema one afternoon, it's worth a watch.