2/4

3.5/4

3.5/4

4/4

2.5/4

2/4

2/4

1.5/4

1.5/4

4/4

2/4

2/4

2.5/4

3/4

0.5/4

1/4

3.5/4

3.5/4

4/4

2/4

3/4

3/4

4/4

3/4

4/4

Next 25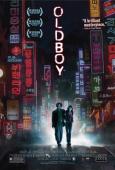 Oldboy (2005)
A hauntingly original revenge story.
4/4 stars
Oldboy is a haunting, fascinating, heart-breaking, extremely violent and near-perfect Korean thriller.

This movie is like that new car smell. It's so refreshing to have something new and intense, taking a detour from all those cheapskate thrillers that were filmed on a Hollywood backlot and cost ten dollars to make.
Oldboy conveys all the elements necessary in a smart thriller. Acting, script, direction.
The lead in this movie, Choi Min-sik, is an amazing actor. The rage, emotion, taunt and desperateness he brings to his character make him so likable and drive the story forward with great ambition for both the audience and the character. His performance is honestly Oscar-worthy, too bad the Academy doesn't nominate foreign films for anything other than the Best Foreign Film category, usually.
Park Chan-wook is an astounding visual director. If there's something I love in a director's style, it's good cinematography. And this movie has plenty. Just like in Stoker, it is astounding how isolated everything seems, often far away and unreliable. I love the use of location and wide-angle.

The thing that changed the movie entirely was a twist near the end of the movie… It may be the best twist in a movie. Ever. I swear, my jaw dropped down and I couldn't breathe.
It's not a film for everyone, but if you can take it, I promise you: You will not see this twist coming.

The ending which followed was also perfect. Pay good attention during the last shot before the credits.

Ripe with a great screenplay, jaw-dropping acting, character study and pleasing direction, Oldboy is easily one of the best foreign films ever made.