2/4

3.5/4

3.5/4

4/4

2.5/4

2/4

2/4

1.5/4

1.5/4

4/4

2/4

2/4

2.5/4

3/4

0.5/4

1/4

3.5/4

3.5/4

4/4

2/4

3/4

3/4

4/4

3/4

4/4

Next 25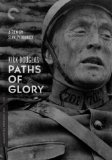 Paths of Glory
A powerful feature
3.5/4 stars
Kirk Douglas is amazing in this film. People have argued that his character is underdeveloped, but I find him to be perfect that way. You don't know much about him, but you get the sense that he's a cold man of war, who, when everyone else ducks during an explosion in a trench, will continue walking tall. That is the majority of his character until he finds out the men who stayed in the trenches are to be shot and he really let his principal, emotional side show.
The acting and the overall filling of the characters was also amazing. There are so many likable and so many unlikable characters, who simply use other soldiers and each other for their own benefit, when the main purpose of the war is for justice.

While this was a very powerful movie, I felt it needed more in certain scenes. They needed more drama and they would have been believable. Stanley Kubrick has an obvious fetish for wide-angle shots. They look good, but we don't necessarily need them in the scenes where people are talking. It's a black-and-white movie, why not use it to your advantage and add some extreme close-ups?
As much as I hate to say it, Stanley Kubrick's direction was the weak point of this movie.

This movie has a baffling message. Aarguably one of the greatest of all.
It teaches us that not all the horror of war happens on the battlefield. That murder does not always come from the enemy. But that it comes from within the legislature of one's own government.

This is a powerful, captivating anti-war movie, with an outstanding message, production design, acting and dialogue and will definitely remind me of some of the evil of humanity that is exhibited during our darkest days.

'See that cockroach? Tomorrow morning we'll be dead and it'll be alive. It'll have more contact with my wife and child than I will. I'll be nothing, and it'll be alive.' - Corporal Paris during his last meal.