3/4

3/4

4/4

4/4

4/4

2/4

3.5/4

3.5/4

3/4

3.5/4

3/4

2.5/4

3/4

3.5/4

3/4

3/4

3/4

3/4

3.5/4

3.5/4

3/4

3.5/4

2.5/4

3/4

2.5/4

Next 25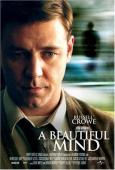 A Beautiful Mind
No point in being nuts if you can't have some fun.
3/4 stars
This movie is about John Forbes Nash, a man obsessed to find an original idea with similar patterns in math, and the Nobel Memorial Prize winner in 1994 in Economic Science. The story is not entirely based on "The Game Theory", It tells mainly the disease suffered by his mind (schizophrenia), showing him in a mysterious border between his rarefied intelligence and insanity.
The movie travels through his unseen sickness which at the beginning helped him to carry himself. It grows up to the point of not knowing what is real and unreal. We can see that he has to review his interpretation about his life, sort out the shame and frustration feelings, discover his own problems, face it, accept others people help, start to doubt his own mind and carry on...
It is not a completely true biopic, but as a story is quite enjoyable and beautiful in images. My favourite scene is almost at the end, when he has to say goodbye to those people created by his mind; he is not angry anymore, he is completely sad and thankful but is worth to finish that friendship.

I liked the James Horner' s work with the soundtracks; specially "A Kaleidoscope Of Mathematics" and "Saying Goodbye To Those You Love". The movie is mainly sad but I could find some funny sequences and nice quotes like:
<Imagine if you suddenly learned that the people, the places, the moments most important to you were not gone, not dead, but worse, had never been. What kind of hell would that be?>
<I've always believed in numbers and the equations and logics that lead to reason. But after a lifetime of such pursuits, I ask: 'What truly is logic?' 'Who decides reason?' My quest has taken me through the physical, the metaphysical, the delusional -- and back. And I have made the most important discovery of my career, the most important discovery of my life: It is only in the mysterious equations of love that any logic or reasons can be found> .