3/4

3/4

4/4

4/4

4/4

2/4

3.5/4

3.5/4

3/4

3.5/4

3/4

2.5/4

3/4

3.5/4

3/4

3/4

3/4

3/4

3.5/4

3.5/4

3/4

3.5/4

2.5/4

3/4

2.5/4

Next 25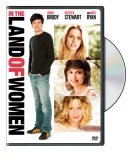 In the Land of Women
Everything is going to be all right.
4/4 stars
It is the story of young blocked writer who works in a job he does not like. One day his girlfriend broke up with him and he got depress. He decides to spend a few days at her grandmother's house who was soon to die. During his stay he meets a neighbour family of his grandmother, composed by a young little girl who behaves like older, a teenager stocked in a problem since her childhood and their mother who was suffering cancer. Each of these women will put you in touch with himself, unlock him and make him feel comfortable being by his own again. At the same time, it is helpful for each one of women showing the life from a different perspective.

I found the casting with Olympia Dukakis, Adam Brody, Meg Ryan, Kristen Stewart and Makenzie Vega was perfect, also the soundtrack selection and the screenwriting lacks not naughty moments. A story where sometimes, a stranger appears in the life for a short time to help and receive help without being conscious of that. But then, is necessary to say goodbye to start again.

No need to set a expensive movie to make it rich of learning and encouragement, or maybe, just to make you think about the way the life flows.

One of my favourites movies.