2/4

3/4

3/4

3/4

3.5/4

3.5/4

2.5/4

2/4

2.5/4

2.5/4

3/4

3.5/4

2.5/4

3.5/4

3.5/4

2.5/4

N/A

2.5/4

3/4

3/4

2.5/4

3/4

3/4

3/4

3/4

Next 25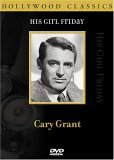 His Girl Friday

3/4 stars
This film is probably best known for its whip-smart dialogue and it's very quick. However, there is more to this film than fast dialogue. It's quite sexist, although, I do think the fact that Cary Grant thinks Rosalind Russell should stay and work for him, (even though she feels she needs to be married) is empowering. I also think the way that Cary Grant seems to always get one over everyone else just isn't right. He's always the smartest man in the room and he never fails.

I wonder what the original play, The Front Page was like. It was a one-act set inside the press room and the character of Hildy was a male. Not a female like the movie.

A good, but not great film.