2/4

3/4

3/4

3/4

3.5/4

3.5/4

2.5/4

2/4

2.5/4

2.5/4

3/4

3.5/4

2.5/4

3.5/4

3.5/4

2.5/4

N/A

2.5/4

3/4

3/4

2.5/4

3/4

3/4

3/4

3/4

Next 25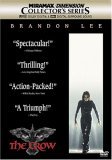 Crow, The (1994)
Converstaions Kill
3.5/4 stars
This film is probably most notable for being the film that Brandon Lee was filming when he was shot and killed on set, it was an accident, but a great actor is gone none-the-less. This film, visually, looks just like any other somewhat dystopian future flick does. It's always dark, I don't believe the sun ever rises, nuclear war must have blotted out the sun. It's always raining, etc, etc, etc. This film also just screams, "hey, I was made in 1993!" The bands, the music, the hair, everything just has that early 90s look. It's visually stunning and the acting, is slightly over-the-top comic book fare, but really wasn't too bad.

The film is based off of a comic book of the same name. I have to admit, in 1994 I had never heard of it, and to this day I've never seen it. I'm not a huge comic book geek, one aspect of being a nerd that I never got into (along with Magic cards, anyone remember those)? It's quite amazing to me that in 1994, other than Batman and Superman, there had been zero comic book adaptations of "well known" (X-Men, Thor, Spiderman, etc.) superheroes. Some entrepreneuring individual decided "I've got a great idea, let's make a movie based on a comic book that nobody's ever read." And it worked! In the early days of comic book adaptations, this is what we were given, things like The Crow, and Blade (1998). I think the well is finally starting to run dry. The movie industry is just rehashing the same old for 15 years now. How many times to we need to see Spiderman get bitten, or Bruce Wayne's parents murdered? That was why it was such a surprise to see so many people flock to see Guardians of the Galaxy this past summer. Who out there has actually read that comic book? (Disclaimer, I have not seen Guardians as of 11-25-14). Maybe it's now time for weird comics to come back to the multiplex. Quite frankly, I'm superheroed out. I could go years without ever seeing another superhero film, but the lemmings eat them up, so the studios will keep on pumping them out.

However, my two biggest takeaways from this film is it's soundtrack and how much The Crow looks like former WCW wrestler Sting.

Musically, the soundtrack is what I remember most about this film. It was everywhere in '94. Up until last night I had never seen this film, but boy do I remember this soundtrack, which I never owned but you didn't have to back then, MTV played the shit out of this, as did every modern rock station in America.

Lastly, this is a highly entertaining film. One that I wished I'd seen years ago.