2/4

3/4

3/4

3/4

3.5/4

3.5/4

2.5/4

2/4

2.5/4

2.5/4

3/4

3.5/4

2.5/4

3.5/4

3.5/4

2.5/4

N/A

2.5/4

3/4

3/4

2.5/4

3/4

3/4

3/4

3/4

Next 25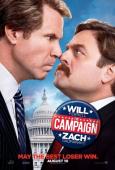 The Campaign
Prescient
2.5/4 stars
What a great movie to come out in 2012, but instead of August, they should've waited until November to release it. If you're into politics, you'll surely get all of the references to the current political climate, most notably the Koch brothers of Kansas. In this film, John Lithgow and Dan Aykroyd play the Motch brothers. Who are trying to buy the election when things for the incumbent (Ferrell) go awry.

It's not quite as laugh-out-loud funny as I expected it to be, with both Ferrell and Galifianakis, but it did have some good laughs. It reminded me a lot of Mr. Smith Goes to Washington (1939). In that film the same thing happens, some wealthy men try and put a puppet into Congress, hoping some bad legislation will get passed. That is essentially what happens in this film as well.

I loved the ending, wondering where the missing 10,000 votes went, I won't give that part away. But, I didn't like the other part of the ending, it was too saccharine. In the real world, the winner would've never said I don't deserve this. I think that's how it should've ended. Not with the antagonists getting their come-uppance. Overall, see this, it's not great, but for a comedy on some random Saturday night, it's not bad.