2/4

3.5/4

0.5/4

1.5/4

1/4

1.5/4

1.5/4

4/4

2.5/4

1/4

3.5/4

4/4

0.5/4

0.5/4

0.5/4

2.5/4

1/4

2.5/4

0.5/4

4/4

3.5/4

2/4

2.5/4

3.5/4

3.5/4

Next 25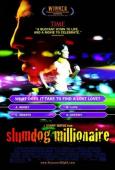 Slumdog Millionaire
Danny Boyle, You Are Magic
4/4 stars
What a remarkable way to tell a love story. As with all Boyle films, Slumdog is heavy with amazing shots and snazzy editing. There are elegant transitions here and an overall rhythm that sweeps you into (and along with) the action on screen. And of course, the soundtrack is simply perfect.
The performances are just as perfect, with endearing actors that swiftly stole my heart.
This film absolutely deserved the Oscar, as did Mr. Boyle.