2/4

3.5/4

0.5/4

1.5/4

1/4

1.5/4

1.5/4

4/4

2.5/4

1/4

3.5/4

4/4

0.5/4

0.5/4

0.5/4

2.5/4

1/4

2.5/4

0.5/4

4/4

3.5/4

2/4

2.5/4

3.5/4

3.5/4

Next 25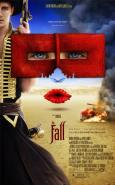 Fall, The (2008)
A Rich Work Of Art
4/4 stars
It is as though Singh embarked on a comprehensive examination of the planet, plucking just the right locations, like a painter would with hues, to create this tapestry of luxurious delights. The Fall is one of the most rich, entrancing tales to be told through film. Both adorable, and beautifully sad, it's a pleasure for the senses, as well as the heart, in much the same way that Pan's Labyrinth succeeded.

The characters are dear, and the use of somewhat unknown (or inexperienced?) actors greatly increases your ability to sink in and take their situations seriously. Playing the role of the damaged stunt man, Lee Pace will (or maybe SHOULD) gain much respect for this difficult performance, and for proving his ability to impressively carry a film along side a child. He not only achieved a sweet rapport with the girl (6 year-old Catinca Untaru) but he displayed an almost graceful inner turmoil throughout that never crossed over into cliche.

The entire concept is unique and remarkable, it provides scenes of excitement, warmth, and tragedy...and with nearly every frame being a thing of beauty, The Fall is definitely a work of art worth owning.