2/4

3.5/4

0.5/4

1.5/4

1/4

1.5/4

1.5/4

4/4

2.5/4

1/4

3.5/4

4/4

0.5/4

0.5/4

0.5/4

2.5/4

1/4

2.5/4

0.5/4

4/4

3.5/4

2/4

2.5/4

3.5/4

3.5/4

Next 25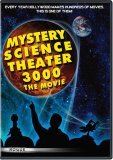 Mystery Science Theatre 3000
In The Not-Too-Distant Future...
4/4 stars
The most stellar television show of all time enters the very realm it has creatively ridiculed since it's birthing...and it accomplished exactly what it should have - A chance for Mike and the bots to be viewed on the silver screen, essentially leaving themselves wide open for slams and pokes, and basically to be picked apart in the same manner as they had done to other movies for years. (Hey, it's only fair)

MST3K holds a special place in my heart. It forced me into the risky genre of retro sci-fi. (that of the 1950s, 60s, and 70s) These gents are impressively quick witted & their vast knowledge and exposure to powerfully bad cinema and all forms of "media" actually, is staggering. They often make strange comparisons, citing or referring to any number of films, songs, celebrities, television shows, books, etc. in a single episode, and as the viewer you either catch it (& laugh) or you miss it (& laugh at the next one soon to follow,) no one is left out no matter what your level of cinema expertise.

The big-screen version is just as wonderfully silly and full of laughs. The crew, forced into an evil scientist's experiment, is subjected to the 1955 science fiction film This Island Earth (which I enjoy for it's cheesiness regardless, but is made even funnier here.) they endure the movie's "awfulness" through jokes and mockery, providing a one-of-a-kind commentary much like watching with a group of witty friends. With Hilarious writing, and charming characters (both robot & human) this flick which has recently been made available on DVD (finally!) is a comedy/sci-fi lover's dream.