2.5/4

4/4

1/4

3/4

4/4

2.5/4

3/4

4/4

0.5/4

1.5/4

0.5/4

2.5/4

2/4

1/4

1.5/4

3/4

3.5/4

1.5/4

0.5/4

3.5/4

1/4

3/4

1.5/4

3/4

2/4

Prev 25 | Next 25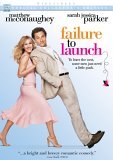 Failure to Launch
Oh Lord.
1/4 stars
The worst. I mean this joins the sewagey ranks of most other recent super-stereotyped male and female "romantic comedy" uglies.

This is one of those bottom of the barrell - "what the hell is going on?!"- kind of movies.

The frighteningly over-cooked McConaughey's name is "Tripp" - and as if THAT weren't enough - A LIZARD LAUGHS AT THEIR MISFORTUNE.

Enough said.