3/4

2.5/4

2/4

1.5/4

2/4

3/4

2.5/4

2.5/4

4/4

3/4

3/4

2.5/4

3.5/4

3/4

2/4

2.5/4

3/4

3/4

2/4

2.5/4

1.5/4

2.5/4

2.5/4

4/4

2/4

Next 25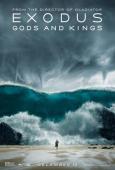 Exodus: Gods and Kings (2014)
Waste of Time
1.5/4 stars
One of the defining aspects of the 2014 cinematic year has been the relative success of films targeting major religious groups, specifically Christians. Sure the trend has died off in the later half of the year (and I expect todayís subject to be no different,) but before summer even hit we had Noah open to over 40 million, Son of God make 60 million despite being made out of footage from an already aired TV series, and Heaven is for Real make over eight times itís production budget. Exodus: Gods and Kings is, at least to some extent, trying to profit off of this same trend in the box office; but I seriously doubt that this movie has the God power to please religious audiences or the entertainment value to please anybody else.

The attempt here is to try and wrangle the church group crowds that made Noah such a surprise success and also bring in the male action/fantasy fans who enjoy director Ridley Scottís past action movies like Gladiator and Blade Runner. But the result is neither an interesting action adventure or any kind of faith affirming. Add in to that Scottís own third vision for the film, which is much more personal and what you get is one confused mess of an epic.

This nothing-script has some serious problems, most of which probably stem from the multiple authors and rewrites. The movie is very vague and bland with a main conflict thatís difficult to pinpoint. Is it about Mosesí relationship with God? A tragedy about Ramses and his stubbornness? About Godís vengeance on Ramses? Well really itís about all of those things and simultaneously none of those things. ďExodusĒ goes in so many directions that it might as well not have gone nowhere. The thing has no focus.

The spectacle of the film is actually relatively entertaining, but itís not nearly entertaining enough to get an audience through a nearly three hour runtime and such an obnoxious plodding storyline. Are the CGI riddled action sequences fun? Sure they are, but this isnít 300; we have to actually care about the plot to get into the action.

Ridley Scott used to be known as a great director, but in recent years his output of awful movies has exceeded his output of good movies by a solid margin. This guy hasnít made a great movie in well over a decade, and Iíve begun to cringe whenever I see his name above a title. The guy who directed Gladiator should know better than this. Either Mister Scott has stopped giving a crap about the movies heís making or heís slowly going insane, and as someone who has seen The Counselor I think that he should probably be locked in an insane asylum.

Honestly Exodus: Gods and Kings isnít the worst movie ever, but itís one of the worst to come out recently; and, more importantly, itís a lot worse then itís closest cinematic contemporary, Darren Aronofskyís Noah. If you have a hankering to watch a movie based on Moses and the plagues of Egypt then go watch Prince of Egypt or The Ten Commandments, because there is probably the worst movie based on this portion of the Bible Iíve ever seen.