3/4

2.5/4

2/4

1.5/4

2/4

3/4

2.5/4

2.5/4

4/4

3/4

3/4

2.5/4

3.5/4

3/4

2/4

2.5/4

3/4

3/4

2/4

2.5/4

1.5/4

2.5/4

2.5/4

4/4

2/4

Next 25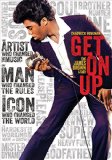 Get on Up
Mediocre
2.5/4 stars
Get On Up is a mediocre movie highlighted by a fantastic performance from its leading man. The plot is so-so and itís direction pretentious. It might have been nothing but an obnoxious bit of failed Oscar bate was it not for Chadwick Boseman. He really putís his all in to this role.

The movie itself is sloppy. Its plot is basically the same as Citizen Kane, only the details have changed. It also has a ton of plot threads that donít go anywhere, and tries to make up for the fact by using jarring unnecessary nonlinear storytelling in order to disguise the movies incompetence.

I donít know very much about James Brown, but this movie doesnít really paint him in a very good light. His character is also just like Citizen Kane, the main character from the movie of the same name. It seems odd to me that every other biopic character study that comes out just happens to be depicting someone who had many of the exact same problems that Welleís Kane did.

So ya, as Iíve said, Boseman is the only exceptional about this movie, but boy does he blow it out of the park. He didnít just figure out how to look and act like Brown for the role, he also had to learn to sing and dance like him too. It also doesnít hurt that Boseman is one of the most instantly charismatic actors Iíve seen in recent years. Despite all of the A-hole things that his character does, Boseman is too likable to resist. I swear this man could smile the panties off a nun.

The movie isnít really worth seeing for the movie itself. But Iím super stoked to see what Boseman does in the future. I really hope he gets a solid acting career in the future and isnít confined to second tier biopics like Get On Up and 42.