3/4

2.5/4

2/4

1.5/4

2/4

3/4

2.5/4

2.5/4

4/4

3/4

3/4

2.5/4

3.5/4

3/4

2/4

2.5/4

3/4

3/4

2/4

2.5/4

1.5/4

2.5/4

2.5/4

4/4

2/4

Next 25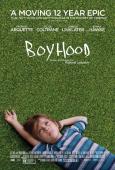 Boyhood
Linklater Flexes his Muscles
4/4 stars
This is probably a movie that changes significantly depending on who you are watching it. I suppose thatís true for all movies, but boyhood is an extreme case.

I am almost 20 years old, so boyhoodís expanse of the typical personís life between elementary school and high school actually covers the majority of my life. The result for me personally is a little bit of nostalgia (as it also covers much of the same time period in which I grew up in,) and an emotional punch to the face consisting of almost every emotion Iíve ever had.

Richard Linklater seems to be quite interested with the complexities of the mundane, as previously explored in other movies of his, such like Dazed and Confused. Boyhood is similar, yet superior, to that movie; it uses experiences that are similar to those that many young men have experienced instead of inventing a bizarre series of characters for the audience to study.

The movie covers over a decade of one personís life (as well as the lives of those close to him,) in less than three hours. And ambitious as it may be, is able to conquer this task in a masterful way. Linklater clearly is a master of the cinema, and this is him flexing his muscles. Itís an unspeakably good film for anyone who wants an emotional and intellectual experience. I canít think of a single person I wouldnít recommend it to.