3/4

2.5/4

2/4

1.5/4

2/4

3/4

2.5/4

2.5/4

4/4

3/4

3/4

2.5/4

3.5/4

3/4

2/4

2.5/4

3/4

3/4

2/4

2.5/4

1.5/4

2.5/4

2.5/4

4/4

2/4

Next 25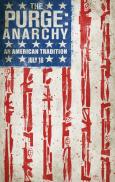 The Purge: Anarchy
One Trick Pony
2/4 stars
The Purge: Anarchy is a one trick pony that uses the same trick as a bunch of other one trick ponies. This sequel takes the premise of last years hit (which was really just a jumping off place for a run-of-the-mill home invasion thriller,) and makes it a whole lot dumber and a lot less thrilling.

Its Message is basically Elysium (I know Iíve said that a hundred times before, but itís true,) but instead of simply refusing to give the poor healthcare, in The Purge: Anarchy they literally kidnap and assassinate the poor for the fun of it, and the government helps them along. Itís just like The Hunger Games, but with more balls and less brain. I wouldnít mind if Hollywood made these preachy 1% messaged movies if they gave them half a brain, but theyíre, for the most part, stupid.

To be fair; there is a lot that has improved in this horror sequel. The characters are a lot more interesting this time around, and the movie wisely chooses more of a Stagecoach build to its plot instead of a typical horror movie one.

Unfortunately, while the characters are better, theyíre also not very likable. When they die the audience doesnít particularly care which causes any attempt the movie makes to create tension useless. Itís not really scary, and itís not really thrilling. It entertains the audience only through a general sense of curiosity. Throughout the movie I was curious to find out what happened next, but if had never found out, I wouldnít have particularly cared.

Overall Iím kind of apathetic on this one. It tries really hard to be better than its predecessor, and succeeds to some extent, but the end result simply makes it less memorable. Highlights include some surprisingly good acting from Frank Grillo, and an over the top freedom fighter played by Michael K. Williams. Iíd say it was worth the two hours it took to watch it, but not worth the ten dollar price of admission. Check it out if you liked the first one, but otherwise I canít recommend it.