3/4

2.5/4

2/4

1.5/4

2/4

3/4

2.5/4

2.5/4

4/4

3/4

3/4

2.5/4

3.5/4

3/4

2/4

2.5/4

3/4

3/4

2/4

2.5/4

1.5/4

2.5/4

2.5/4

4/4

2/4

Next 25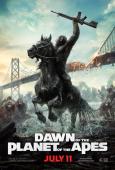 Dawn of the Planet of the Apes
A Thought Provoking Story
3/4 stars
The expectations for this new prequel sequel have been high, and its little wonder. Its predecessor, Rise of the Planet of the Apes was a lot better then a bunch of people thought it would be, and moved on to be one of the most memorable movies of that year. Dawn of the Planet of the Apes is about of equal quality as "Rise", which is no small feat. But reviews and early buzz have it set as significantly better then "Rise," which I did not find to be true. Yes "Dawn" tries hard to surpass the first prequel in both scope and quality, but while there are many things in it that are mind-blowingly good, it is a bit to flawed to be considered "great."

The whole thing is about war, and how the conflict between two peoples can escalate without some evil Darth-Vader like force behind it. The movie has shades of Dances with Wolves in its core message, but it's a heck of a lot smarter and more complex. It's not about one group persecuting another; it's about to groups that through a combination of different factors find conflict to be inevitable. There is no absolutely evil character, only a series of desperate characters struggling to find the right thing to do. I applaud this movie for creating a thought provoking, complicated story.

The apes are one of the best aspects of the movie. Caesar and Koba are two very captivating characters brought to life through modern technology. The conflict between the two of them is the most interesting of the conflicts in "Dawn," and the acting really does show through the technology. their story is complex, and their characters equally so.

The humans, on the other hand, lack the depth of their animal counter parts. Most of them are boring, and the ones that are interesting aren't focused on enough to make their motivations particularly clear. There are quite a few one-note humans in this flick, which is a shame considering all of the good actors used to fill these rolls.

The main falling point of "Dawn" is its inability to tell what are, essentially, two parallel stories. The human story and the ape story are really separate ones that are connected. The movie is trying to give us an idea of the kind of events that lead to a war without painting anyone as an absolute villain on either side, which is fantastic. But in telling one side of the story, the ape's side, the other side falters, and feels almost unnecessary. I wish that the filmmakers would have either expanded the movie to better flush out the human characters, or cut their part of the movie down significantly so we could focus on Caesar and his ape family. Just a few tweaks would have transformed this movie from being really good; to being the best movie of the summer.

I strongly recommend this one to anyone who likes science fiction or just movies in general. It's a really strong movie, and even I admit that my problems with it are more pet peeves then actual problems. It's a very good movie that's just as good, if not better, then its predecessor.