3/4

2.5/4

2/4

1.5/4

2/4

3/4

2.5/4

2.5/4

4/4

3/4

3/4

2.5/4

3.5/4

3/4

2/4

2.5/4

3/4

3/4

2/4

2.5/4

1.5/4

2.5/4

2.5/4

4/4

2/4

Next 25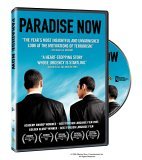 Paradise Now
Paradise Now, A Great Movie
3.5/4 stars
It's always interesting seeing the psychology that leads people to violent actions, and Paradise now is no exception. Its message is complex, and its two head actors are actually pretty likable. It does a great job of supplying the message of "Terrorists are people too," along with some other thought provoking less definite messages to go with it.

I Imagine Paradise Now had more punch in 2005 when it came out. The movie paints a definite picture of what goes through the head of someone who is willing to kill himself for any reason, not just terrorism, but I kind of feel like the emotional punch is pulled just a little bit due to the time and place.

That's less of a criticism and more of a complement in the long run. This movie is a product of it's time and a product of its place. By default people in the future who live here in America will probably not understand this film as much more then a historical landmark, if that, simply because they won't be Arabic and they won't have experienced time in history.

Paradise Now really is a great movie. Its leads put in brilliant performances and its message isn't as straight up obvious as it seems at face value. It's a movie that warrants multiple viewings and some deep thought afterward.

What causes people to do violent things? Why has there been so much violence in that part of the world throughout history? Why is religion prevalent in times of hardship? These questions are raised, and some of them might even be answered, all you have to do is watch carefully.