3/4

2.5/4

2/4

1.5/4

2/4

3/4

2.5/4

2.5/4

4/4

3/4

3/4

2.5/4

3.5/4

3/4

2/4

2.5/4

3/4

3/4

2/4

2.5/4

1.5/4

2.5/4

2.5/4

4/4

2/4

Next 25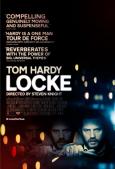 Locke
Fantastically Acted and Perfectly Realised
4/4 stars
One would think that watching a guy drive down a freeway for eight-five minutes would get boring fast, but Locke is a thriller that keeps you on the edge of your seat, and uses itís limiting claustrophobic setting to its advantage.

The movie is almost completely a one man show by Tom Hardy. Without his strong leading performance this movie would be total crap. He character is strong and confident in the face of emotionally charged events, and does what he thinks is right despite what everyone around him says. Tom Hardy inhabits his character perfectly.

Of course it wouldnít matter how well acted this strange movie was if it wasnít for the writing and direction, and theyíre both spot on here. Locke as a character is fully realized, the movie is totally bent on this one character and his life and motivations, but boy do they get him perfect. Locke is as close to a fully realized person as a movie thatís les then ninety minutes long can create. The director does a really good job of making sure that we see Lockeís struggle, and does a great job of making sure we donít get bored of looking at the inside of the same car over and over again by using ever angle freaking imaginable.

Locke is my favorite film of 2014 so far and is worth seeing if itís showing at a theater anywhere near you Iíd say itís worth the drive. I drove almost an hour to a theater that was showing this flick and I wasnít disappointed in the slightest; I canít imagine anybody would be.