3/4

2.5/4

2/4

1.5/4

2/4

3/4

2.5/4

2.5/4

4/4

3/4

3/4

2.5/4

3.5/4

3/4

2/4

2.5/4

3/4

3/4

2/4

2.5/4

1.5/4

2.5/4

2.5/4

4/4

2/4

Next 25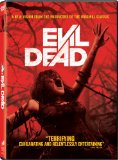 Evil Dead (2013)
A surprisingly good remake
3/4 stars
This is the best horror remake I've seen in years. In a world were every half-decent horror film from the last several decades is getting a remake and/or reboot, it was inevitable that they would get around to my personal favorite Horror/comedy saga, The Evil Dead.

I was pleasantly surprised by this flick. It did a decent job of capturing some of the originals spirit while still being its own creation. It pay's homage to the original, but doesn't reinvent the wheel. It's really about as good an Evil Dead remake as one could hope for.

I've read reviews saying that this was a movie made less for the typical horror going teen and more for the hardcore Evil Dead fan, but in reality it's somewhere in-between. There are plenty of nods to the original, and it's a lot of fun seeing new deadites, but the movie isn't directly connected to the others and could easily be understood by a newcomer. Yet a newcomer to the Evil Dead wouldn't enjoy it nearly as much as a long time fan.

Even though I had fun with this movie, I will more then likely never see it again, not because it was bad, but because I own the 1980's classic. Why would I want to rent or buy the Evil Dead remake when I have the superior original here at my house?

All in all the Evil Dead is a solid remake, the rare one that comes close to justifying its existence. I recommend anyone who likes the original trilogy go see it, and if you want to see it but haven't seen the originals I recommend you see them first. It's a lot more enjoyable for fans.

P.S. wait until after the credits, you won't regret it.