3/4

2.5/4

2/4

1.5/4

2/4

3/4

2.5/4

2.5/4

4/4

3/4

3/4

2.5/4

3.5/4

3/4

2/4

2.5/4

3/4

3/4

2/4

2.5/4

1.5/4

2.5/4

2.5/4

4/4

2/4

Next 25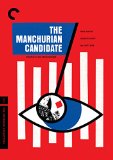 Manchurian Candidate, The (1962)
Really good
4/4 stars
I just absolutely love Frank Sinatra and Lawrence Harvey in their respective roles. Especially Lawrence Harvey who at first comes off as a huge twerp with mommy issues, but by the end of the film he has become incredibly sympathetic and complex.

It really is Harvey's character who makes this one fore me. He play's both an uptight jerk and a melancholy child so well, and so seamlessly that his switching back and forth between both sides of himself isn't even noticed by the audience. His "loveable" monologue is one of my favorite movie monologues of all time, and also marks one of the first times I cried during a movie.

I also absolutely love the whole mind control plot, I always thought that the Idea of mind control was fascinating, and wondered why I hadn't seen more movies about it. Even when mind control is used in a film (like A Clockwork Orange or The Matrix) it never takes away freewill entirely. But freewill is completely annihilated in the Manchurian Candidate, and that terrifies me.