4/4

3.5/4

3.5/4

3.5/4

3.5/4

2.5/4

4/4

3.5/4

2.5/4

2/4

3.5/4

1.5/4

4/4

3/4

3/4

2/4

2.5/4

2/4

2.5/4

4/4

4/4

3/4

4/4

2.5/4

2.5/4

Next 25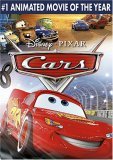 Cars
Great Children's Movie/ Below the Bar PIXAR Movie
2.5/4 stars
PIXAR did it again. They did a great job with this movie.

Being PIXAR though, I will hld this movie to a higher standard.
How it compares to other PIXAR movies;
It was fun and funny. The two things it did miss was cute and smart, which for me, are the two key ingredients in PIXAR movies. Ignore the fact that it is harder to get in touch with cars; PIXAR just didn't "drive" home the characters for me. They were a little flat and unimaginative.