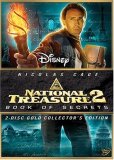 National Treasure: Book of Secrets
Even worse then the worst!! How???
1.5/4 stars
Basically, this movie tries to be a mix of a Ben Stiller slap-stick with the slick fun adventure of an Indiana Jones flick, which is not a good thing. Cage does cause a few good laughs, mainly during his sarcastic rants, but they are all countered by his overly-sappy love-for-history dramatic scenes. All of this is completely without mention of the ludicrous story line that has more obvious holes then a shot-up Daffy Duck in an episode of Looney Tunes, and some downright bad acting from Greenwood, Kruger, oscar nominee Harris (who often plays great villains, but comes off incredibly soft here), and oscar winner Mirren. Worst movie with Three Oscar Winning Actors (Cage, Voight, Mirren) for the entire year.