4/4

4/4

1/4

0.5/4

2.5/4

3/4

4/4

0.5/4

4/4

1/4

2.5/4

3/4

4/4

2/4

1/4

1/4

4/4

4/4

4/4

4/4

4/4

0.5/4

1/4

4/4

4/4

Next 25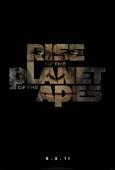 Rise of the Planet of the Apes
Cgi apes are better then actors in monkey suits!!
4/4 stars
By far the best movie of 2011 !!! I have seen at least one of the old Charleton Heston films featuring all the actors in monkey suits and i was so put off i even balked at Fox studios when i heard they were doing somewhat of a reboot. Then i started to see some of the trailers that Fox were putting out for the film and wow it peaked my interest. I know alot of folks will say 'Yeah yeah CGI apes...so what?' this reviewer will take CGI apes over actors in monkey suits any day of the week! When i got into the theatre to see this finally it was the very first time in from what i can remember where i actually upon watching the end credits roll, to get right back to the box office and purchase yet another ticket for the next showing and that my freinds, as far as i am concerned in this movie day and age, extremly rare.

Fantastic storyline that shows how the ape colonies began under the tutelage of 'Ceasar' an ape born in an experimental lab whose mother was given a dose of an experimental drug daily right up until her timely demise leaving Ceasar in the hands of Dr. Will Rodman (James Franco) who ends up sneaking the baby primate home as to further it's studies as well as look after his father Charles (John Lithgow who was nice to see back on the big screen) who suffers from Dementia.

He discovers that not only does the wonder drug make Ceaser everyday more human but that it is also curing his father as well. Action packed great version of this film that refreshes the Ape story.