1.5/4

3/4

3.5/4

1.5/4

3.5/4

3/4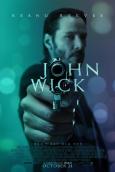 John Wick
Awaken the psychopath
3/4 stars
I am glad we are out of this experimental stage of cinema and back to the basics. John Wick delivers what most boys night out craves... guns, fighting, plot, bad guy, good guy, good bad guy, bad bad guy and a lot of dead bodies. The film succeeds in delivering sense of community among the city's under world, the Russian mob and the end of Jonh Wick's barrel.
The story is quite simple, as the Russian Mob boss summarized in one sentence... you killed his #u5king DOG!!
It is a story for all the people that fantasize about ringing the neck of the person who cut you off in traffic, or cut in front of you in a queue, who said something offensive to you or behaved unapologetically and deserved to get their ass kicked... this story is for all the violent justice we perform in our head but don't act on... John Wick acts on them.